Welcome to the Kalamazoo Bee Club
The Kalamazoo Bee Club provides beekeeping education, support, and bee-related services to the greater Kalamazoo area. The Kalamazoo Bee Club is an open club—anyone can be a member; no membership fee or dues are collected. We provide education through monthly programs (generally in the form of an educational presentation), field days during the non-winter months at the club apiary, and our annual Bee School.
---
Have you checked for Mites recently ???
The Mite-A-Thon is a tri-national effort to collect mite infestation data and to visualize Varroainfestations in honey bee colonies across North America within a one-week window.  All beekeepers can participate, creating a rich distribution of sampling sites in Canada, the United States, and Mexico.
OBJECTIVE: 1) To raise awareness about honey bee colony Varroa infestations in North America through effective monitoring methods. 2) Management strategies will be made available for discussion within bee organizations utilizing Mite-A-Thon partner developed information and outreach materials.
PARTICIPANTS: All beekeepers in North America are encouraged to participate.
WHAT YOU NEED TO DO:
Encourage your members to participate in September, through meetings, newsletters, emails, social media etc.
Teach new beekeepers how to monitor for mites in August.
Help your members prepare their monitoring materials.
Support your members in making sure they are able to monitor mites effectively and report their data.
DATA COLLECTION: Varroa monitoring data will be uploaded to www.mitecheck.com.
CONTACT: miteathon@pollinator.org or 415 362-1137
Get resources and stay up to date at www.pollinator.org/miteathon!
---
>> next apiary day >>Saturday, October 6th, 1:00-3:00
Preparation for winter,
feeding, as necessary
mite treatment
winter prep

Mouse guards
Wrapping
Ventilation
---
Next Club meeting is on
Wednesday, October 10 at 6:30 pm – Chuck Bauer  –  "Windbreaks and Winterization", 
at the Kalamazoo Nature Center –
 see " Events" page for directions
 – meetings are open and free of charge.
Chuck is a passionate beekeeper for more than 10 years and a member of five different bee clubs where he has delivered some really good presentations! He usually has 18-20 colonies going into winter and often has a 100% overwinter success rate using the methods that he will present and demonstrate.
---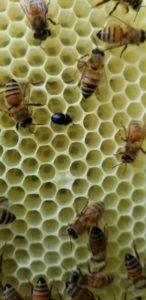 Small hive beetle strives in Michigan in August! The small hive beetle (Aethina tumida) is a beekeeping pest. It is endemic to sub-Saharan Africa, but has spread to many other locations, including North America, Australia, and the Philippines. The small hive beetle can be a destructive pest of honey bee colonies, causing damage to comb, stored honey, and pollen.
Our members observed them in our Apiary at WMU: Honey bees practicing "confinement" behavior in which bees trap adult beetles in the cracks and crevices of the hive, not allowing them to roam and lay eggs throughout the hive.

Find here two links to products we would recommend to eliminate SHB