Bee School 2016 — Registration is Open!
Kalamazoo Bee School 2016 will be held Saturday, February 20 at Kalamazoo Valley Community College. Visit our Bee School page for more info and register now!
---
Welcome to the Kalamazoo Bee Club
We are here for the purpose of educating people about beekeeping, supporting beekeepers, and to provide bee-related services to the greater Kalamazoo area community. The Kalamazoo Bee Club is an open club—anyone can be a member and no membership fee or dues are collected. We provide education through monthly programs (generally in the form of an educational presentation), field-days during the non-winter months at the club apiary, and our annual Bee School.
---
Next Club Meeting
No meeting in December. Enjoy the holidays!
January Meeting
Wednesday, January 13 | 6:30 p.m
Kalamazoo Nature Center | 7000 North Westnedge Ave., Kalamazoo (map)
Charlotte Hubbard | So You're Thinking About Keeping Honey Bees?
So, you're thinking about keeping bees.  Should you?  Can you?  Are there other ways more appropriate for y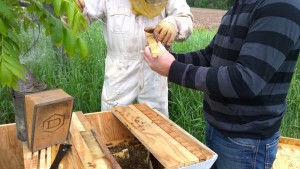 ou to help this critical pollinator?  Do you have what it takes to be successful?
Charlotte Hubbard will explore the costs, location, time, and equipment requirements, as well as outline a timeline for the key steps to make it happen if you decide this is for you.  And because beekeeping is a lifelong learning journey, with a very steep initial learning curve, she'll suggest resources for reading, further education, and mentoring.
Our club hosts a full-day bee school in February.  This presentation is a must-attend for those thinking of keeping bees, as it will cover key concepts that will help you get more from the February bee school.
---