Welcome to the Kalamazoo Bee Club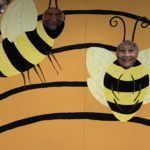 Thanks to everyone who attended and assisted in February 15th's awesome bee school!
Beekeeping is a lifelong journey of learning, so please join us on next steps — like our free March club meeting, at 6:30 at the Kalamazoo Nature Center, on March 11. Dr. Kirsten Traynor is touring Michigan, speaking at major conferences and clubs. A gifted presenter, she'll review swarming. This topic is of particular interest if you have an overwintered hive–because they want to propagate. And beginners–first year colonies also swarm.