Welcome to the Kalamazoo Bee Club
The Kalamazoo Bee Club provides beekeeping education, support, and bee-related services to the greater Kalamazoo area. The Kalamazoo Bee Club is an open club—anyone can be a member; no membership fee or dues are collected. We provide education through monthly programs (generally in the form of an educational presentation), field days during the non-winter months at the club apiary, and our annual Bee School.
---
Next Club meeting is on: Wed., November 14th at 6:30 pm
– program to be published soon
---

Next apiary day is on: Sat., November 10th, 1:00-3:00 pm
Preparation for winter,
feeding, as necessary
mite treatment
winter prep

Mouse guards
Wrapping
Ventilation
---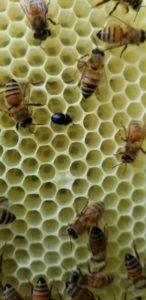 Small hive beetle strives in Michigan in August! The small hive beetle (Aethina tumida) is a beekeeping pest. It is endemic to sub-Saharan Africa, but has spread to many other locations, including North America, Australia, and the Philippines. The small hive beetle can be a destructive pest of honey bee colonies, causing damage to comb, stored honey, and pollen.
Our members observed them in our Apiary at WMU: Honey bees practicing "confinement" behavior in which bees trap adult beetles in the cracks and crevices of the hive, not allowing them to roam and lay eggs throughout the hive.

Find here two links to products we would recommend to eliminate SHB