Welcome to the Kalamazoo Bee Club
We are here for the purpose of educating people about beekeeping, supporting beekeepers, and to provide bee-related services to the greater Kalamazoo area community. The Kalamazoo Bee Club is an open club—anyone can be a member and no membership fee or dues are collected. We provide education through monthly programs (generally in the form of an educational presentation), field-days during the non-winter months at the club apiary, and our annual Bee School.
---
Next Club Meeting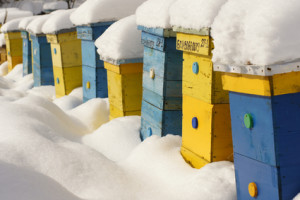 Tuesday, SEPTEMBER 8 | 6:30 p.m.
Westwood Fire Station | 1310 Nichols Road, Kalamazoo (map)
Tim Ives | Winterizing
Tim Ives will be presenting a success story of his current winterizing practices. This is a discussion you will not want to miss. He altered his winterizing preparations in 2007. Before 2007 he and others in the mid-section of our state were experiencing 30% losses with some 60-70% losses each winter. His losses now are about 8%! Something we would all like to see in our apiaries! Join us for Tim's presentation and Q&A.
See the Club Meetings for more information about our monthly club meeting schedule. Kalamazoo Bee Club meetings are free and open to the public.
---
2015 Field Days
We are up and running with a full schedule of field days at the Club Apiary. These are hands-on (or off, if you prefer) opportunities to learn more about beekeeping. Check out the Field Days/Club Apiary page for the dates, topics and directions to get there!