Welcome to the Kalamazoo Bee Club
We are here for the purpose of educating people about beekeeping, supporting beekeepers, and to provide bee-related services to the greater Kalamazoo area community. The Kalamazoo Bee Club is an open club—anyone can be a member and no membership fee or dues are collected. We provide education through monthly programs (generally in the form of an educational presentation), field-days during the non-winter months at the club apiary, and our annual Bee School.
---
Next Club Meeting
Thursday, AUGUST 13 | 6:30 p.m.
Comstock Community Center | 6330 King Highway, Kalamazoo (map)
Panel Discussion | Extracting & Processing Honey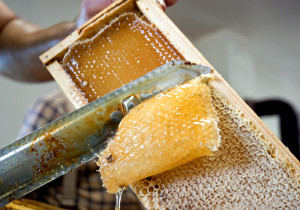 Lucy Dilley from the CanDo Kitchen will join us for the first half of this meeting. Lucy will be discussing how the cottage food law bears a look in how we process honey. She will also discuss labeling requirements with respect to honey and other products you may wish to sell.
The second part of the meeting will look at the ways in which one can process and extract that delicious honey harvest you have been working towards all year. Members of the Kalamazoo Bee Club  will cover the various ways one can extract honey and the pros and cons of each. We will be discussing the crush-and-strain, cut comb, and we'll be demonstrating how to use an extractor and the equipment necessary to do this successfully with large and small amounts of honey.
See the Club Meetings for more information about our monthly club meeting schedule. Kalamazoo Bee Club meetings are free and open to the public.
---
2015 Field Days
We are up and running with a full schedule of field days at the Club Apiary. These are hands-on (or off, if you prefer) opportunities to learn more about beekeeping. Check out the Field Days/Club Apiary page for the dates, topics and directions to get there!