Welcome to the Kalamazoo Bee Club
The Kalamazoo Bee Club provides beekeeping education, support, and bee-related services to the greater Kalamazoo area. The Kalamazoo Bee Club is an open club—anyone can be a member; no membership fee or dues are collected. We provide education through monthly programs (generally in the form of an educational presentation), field days during the non-winter months at the club apiary, and our annual Bee School.
---

Michigan Beekeepers Association


Fall Conference
Friday, Nov. 3, 2017 and Saturday, Nov. 4, 2017
This year's Fall Conference will be held at the Radisson Plaza Hotel (100 W. Michigan Ave. Kalamazoo, MI 49007) on the in the heart of Downtown Kalamazoo.
Our Keynote speakers will be Dr. Dewey Caron and Dr. Larry Connor.

November Meeting

Wednesday, November 8, 
2017
, at 6:30 p.m
Kalamazoo Nature Center  –  7000 North Westnedge Ave., Kalamazoo MI
Special Guests
Dr. Dewey Caron & Dr. Larry Connor
So…What is Your Plan 

for Successful Colony Overwintering

 

Dr. Dewey Caron



This talk will be a brief recap of history of losses, what some 'successful beekeepers (larger, smaller-scale, and backyard beekeepers) are doing to reduce overwintering losses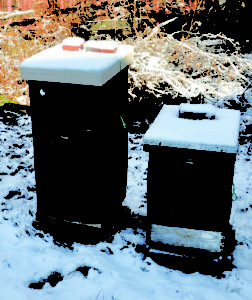 "Top 10 list" of things to do/not do
Biological and Stewardship Keys toward having "reasonable" losses overwinter
Thoughts about working toward "treatment-free" beekeeping
Photo by L. Connor
Dr. Dewey Caron 
Presentation To Be Announced
---