Welcome to the Kalamazoo Bee Club
The Kalamazoo Bee Club provides beekeeping education, support, and bee-related services to the greater Kalamazoo area. The Kalamazoo Bee Club is an open club—anyone can be a member; no membership fee or dues are collected. We provide education through monthly programs (generally in the form of an educational presentation), field days during the non-winter months at the club apiary, and our annual Bee School.
---
Next apiary day is on: Sat., November 10th, 1:00-3:00 pm
Preparation for winter, feeding, as necessary; mite treatment
winter prep: Mouse guards; Wrapping & Ventilation
Next Club meeting is on: Wed., November 14th at 6:30 pm
program to be published soon
---
Kalamazoo Bee School 2019
WHEN: Saturday, January 26 | 8 a.m. – 5 p.m.
WHERE: Kalamazoo Valley Community College | 6767 West O Ave., Kalamazoo, MI (map)
Bee School is a full day of education for beekeepers of all levels of experience — from new-bees to advanced beekeepers. The day will start with a keynote address in the auditorium for everyone to attend followed by a series of breakout sessions on a variety of topics. There is a beginners track specifically for people just getting started and a wide variety of topics for intermediate to advanced beekeepers. Topics also vary from backyard hobbyist to commercial operators.
A variety of beekeeper supply vendors will be set up at Bee School, so start making your wish list now!
This year's Bee School is made possible in part by a generous in-kind donation from Kalamazoo Valley Community College. The Kalamazoo Bee Club looks forward to a continued partnership with KVCC in presenting quality education for area beekeepers.
Keynote Speaker: Meghan Milbrath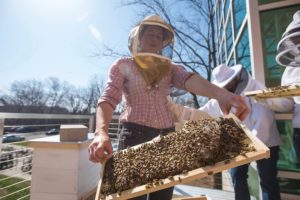 Dr. Meghan Milbrath began working bees with her father as a child over 20 years ago, and now owns and manages The Sand Hill Apiary, a small livestock and queen rearing operation in Munith, Michigan. She studied biology at St. Olaf College in Northfield, MN, and received degrees in public health from Tulane University and the University of Michigan, where she focused on environmental health sciences and disease transmission risk.  Meghan worked as a postdoctoral research associate under Zachary Huang at Michigan State University, studying nosema disease, and is currently an academic specialist at MSU, where she does honey bee and pollinator research and extension and is the coordinator of the Michigan Pollinator Initiative.   Meghan is active in multiple beekeeping organizations, writes for multiple beekeeping journals, and speaks about bees all over the country.  She currently runs the Northern Bee Network, a directory and resource site dedicated to supporting queen producers, and she is passionate about keeping and promoting healthy bees.