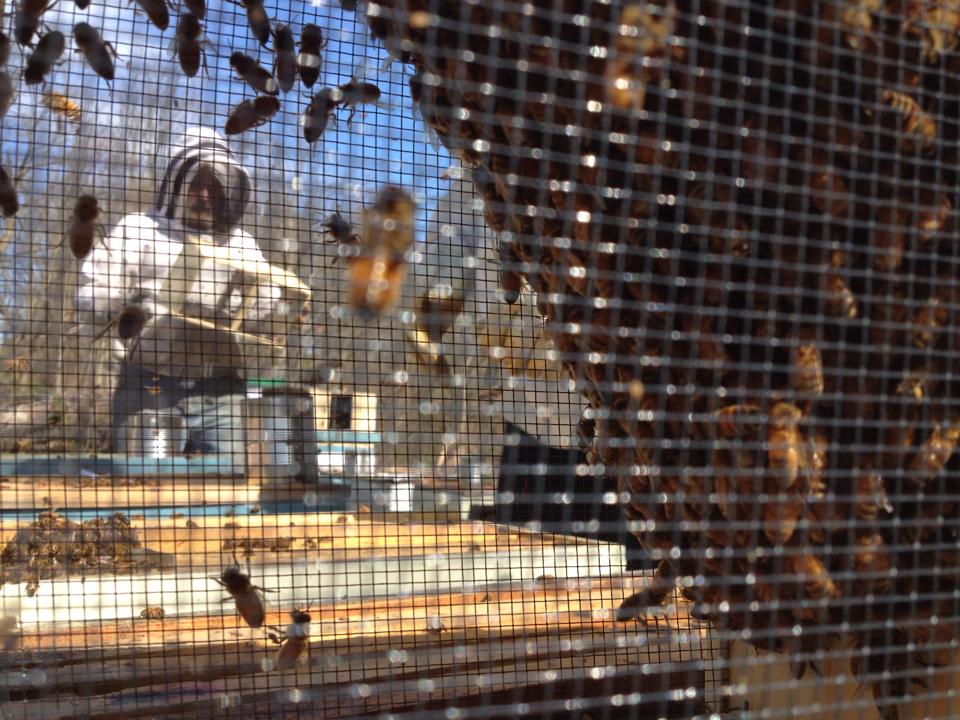 It is that time of year… the bees are coming, the bees are coming. Many will have already ordered your bees. Many of you will have gone the conventional and less expensive route of ordering packages. This is a choice I have made in years past, but this year I decided to invest the extra money by ordering nucleus hives, also known as nucs. There are a quite a few reasons why I have chosen to go this route and I am going to articulate them in this blog post.
First, lets compare how packages and nucs are made.
When you order a package of bees, you are getting a box of worker bees (and drones) that have been shaken out of numerous colonies and dumped into a box. While some of these bees may be related to each other, many of them are unrelated. To this box a queen is added. This queen is most likely unrelated in any way to the bees in the box. In fact, many package producers buy their queens from another supplier. Here in the north, in order for us to get these packages in time to take advantage of the strong spring flow, we have to import them from the southern states or California.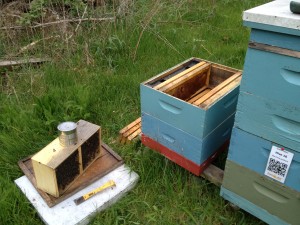 When you order a nucleus hive, you get a hive of bees that is ready to go. Nucs are made up of a couple of frames of brood and food along with some bees. All of which are taken from a strong colony. And then a queen cell or a virgin queen is introduced to this "new" colony. This queen may also have no relationship to the bees in the box and may have been supplied from another producer. The queen is allowed to mate and start laying. Once it has been confirmed that there is a good brood pattern in the nuc, it is gathered up with others and sold to waiting buyers.
As a buyer the first advantage of ordering a nuc is that you are getting a queen that is proven to be laying and a colony that is ready to go when it arrives. This means that you get at least a 3-week start over a package of bees, since the colony is already producing.
The second major difference is installation and the ability for the colony to take advantage of the heavy spring nectar flow.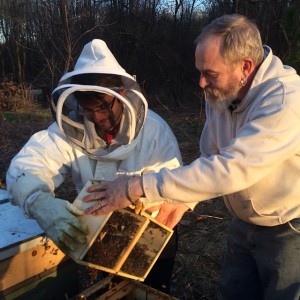 A package of bees needs to be put into a new hive. With new beekeepers this means a home that is new and has no comb built up yet, for the queen to start laying into. The bees are either shaken into the colony or they are set in a lowerbox and enticed out by placing the queen higher up in the boxes. With a package, since the queen is unrelated to the bees she comes with, there is usually a minimum of 3 days before the new queen can be released. And there is no guarantee that she will be accepted when she is released. Once, the queen is out, she still needs to get back to laying weight and the colony needs to prepare or build comb for her to lay her eggs into. IT will take her a few days before she is laying at the rate that will continue through the peak season. From the day that she starts laying, it will be 21 days before the first new worker emerges and the colony starts to build up its work force.
A nucleus hive arrives ready to go. It will have been made up with at least 2 frames of brood and 2 frames of food, with an extra empty frame added for the bees to work on and the queen to lay in. In many cases, the bees will have started working that 5th frame while they were waiting for their new queen to get mated and laying. When the nuc arrives at your place, it will already be producing its new workforce. All that you need to do is take out those frames from the nuc box and place them in their new hive and walk away. No need to return and let the queen out. No need to go back check and see if she is laying after she is released. That doesn't mean you won't be checking to see how things are progressing, but you can do it on your own schedule.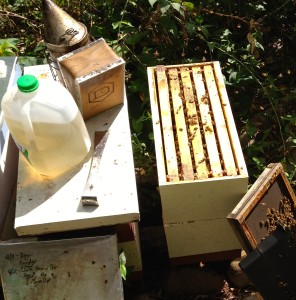 I had mentioned earlier that a nuc gives you a 3-week jump on the season. But if it takes a worker 21 days to emerge and you factor in the introduction of the queen and wait for her to get up to speed in her laying, then is it is really almost 4 weeks before the colony is beginning to increase its population. If your package arrives at the beginning of April, this means your colony is limping along until the beginning of May. If the bees don't arrive until May, then things don't get rolling until June. The nucleus hive will have a growing population that is ready to take advantage of these early flows and will be that much stronger if and when the spring flow tapers off.
The third point I want to review is availability of both types of beginning colonies.
Package bees are readily available. They are easier for the producer to make and sell, as they are easily put together and shipped off. This is why there are so many available to meet the demand in the northern states. Nucleus hives need more time and attention to produce, since once they are put together producers need to wait for queens to mate and start laying. There is also a significant investment in the equipment needed to hold those nucs while they are growing. Therefore nucs cost more than package bees.
Southern beekeepers are beginning to recognize that there is a demand for nucleus hives and more of them are becoming available early in the season. Northern beekeepers are also producing nucs for sale, but they are not available until later in the season since they have to wait for colonies to be producing enough drones to have their queens to mate successfully. This is a viable option for someone who was not able to order a package or nuc from a southern supplier. Allowing them to get started in beekeeping instead of having to wait until the following spring.
My final point is regarding the need to be using local hardy bees in our operations. Queens produced from local, winter hardy stock are becoming more and more popular with beekeepers. It is something that I have been focusing on for the last few years. But how does importing bees from the south fit into that kind of "local" thinking? Well, in my case, whether I order nucs or packages, I try and replace the queens from those southern producers with local, hardy stock. Early nucs offer an advantage here, since they will be strong enough to make a split. I can put the original queen in the split and introduce a new local hardy queen to the original hive. If she is successfully introduced and laying, the colony will have local hardy stock by the end of the season. The new nuc can then have the southern queen removed and be used to mate another local queen and produce a nuc to add to your operation or sell to another beekeeper later in the season.
In my opinion, nucleus hives offer significant advantages over packages. The 4 week jump on the season compared to packages, means my hives are growing sooner and faster. This build up allows me the opportunity to replace queens and make up more nucs earlier than I would be able to if I started with packages.
Views and information presented here are of the contributor, and not necessarily the Kalamazoo Bee Club.