Kalamazoo Bee School 2017
WHEN: Saturday, February 18 | 8 a.m. – 5 p.m.
WHERE: Kalamazoo Valley Community College | 6767 West O Ave., Kalamazoo, MI (map)
REGISTRATION: Use the button below to register online or download a registration form and mail it in.

Bee School is a full day of education for beekeepers of all levels of experience — from new-bees to advanced beekeepers. The day will start with a keynote address in the auditorium for everyone to attend followed by a series of breakout sessions of a variety of topics. There is a beginners track specifically for people just getting started and a wide variety of topics for intermediate to advanced beekeepers. Topics also vary from backyard hobbyist to commercial operators. Visit the Topics page for a full list of session topics.
A variety of beekeeper supply vendors will be set up at Bee School, so start making your wish list now!
This year's Bee School is made possible in part by a generous in-kind donation from Kalamazoo Valley Community College. The Kalamazoo Bee Club looks forward to a continued partnership with KVCC in presenting quality education for area beekeepers.
Keynote Speaker: Michael Palmer  |  "The Sustainable Apiary"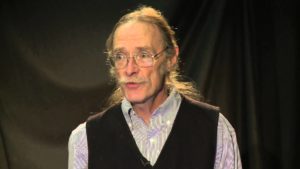 Mike Palmer escaped suburban New York City by going off to university in Vermont, where he fell in love with the country, and his wife, and eventually the little bugs that we all hold so dear. Over the following twenty odd years, he built the farm into an apiary of nearly a thousand colonies.  When the bees were hit with mites Mike tried raising a few queens and wintering them in nucleus colonies to reduce the expense of replacement queens and packages. The results changed his beekeeping forever. Read more on the Topics  page.
New-bees come prepared!
We strongly recommend that new (soon-to-be) beekeepers do a little homework before Bee School! Yes, we offer a "Beginners Track" but we can only cover so much in a short time. It will be very helpful to you if you come to Bee School with a little background knowledge and a basic vocabulary. Our January Club meeting is titled "So You're Thinking About Keeping Honey Bees?" — this will be a great introductory to beekeeping basics such as the equipment used and who's who in the hive. If you are unable to attend this meeting please do some research on the internet or review a beginner's beekeeping book prior to attending Bee School.