Kalamazoo Bee School 2019
WHEN: Saturday, January 26 | 8 a.m. – 5 p.m.
WHERE: Kalamazoo Valley Community College | 6767 West O Ave., Kalamazoo, MI (map)
Registration for Bee School 2019 is open – buy your tickets now!
Kalamazoo Bee School is a day-long event featuring keynote speaker Meghan Milbrath of Sand Hill Apiary, followed by breakout sessions for beginners to intermediate through experienced beekeepers. An optional onsite lunch is available when you register online for $12 extra—bee sure to sign up for lunch on the ticket page if you would like that option. Otherwise, please pack a lunch or visit a nearby restaurant.
Raffle tickets will be sold throughout the day for a number of larger prize packages. Winners will be announced toward the end of the day, with grand prize winners after the last session. Vendors will be available throughout the day selling bees, bee-related equipment, and other products.
The cost of Bee School is as follow:
Pre-registration: 45$
At the door: 55$
Student rate: 35$
An optional additional charge for lunch will be offered with pre-registration.

Keynote Speaker:  Dr. Meghan Milbrath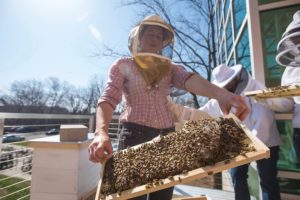 Dr. Meghan Milbrath began working bees with her father as a child over 20 years ago, and now owns and manages The Sand Hill Apiary, a small livestock and queen rearing operation in Munith, Michigan. She studied biology at St. Olaf College in Northfield, MN, and received degrees in public health from Tulane University and the University of Michigan, where she focused on environmental health sciences and disease transmission risk.  Meghan worked as a postdoctoral research associate under Zachary Huang at Michigan State University, studying nosema disease, and is currently an academic specialist at MSU, where she does honey bee and pollinator research and extension and is the coordinator of the Michigan Pollinator Initiative.   Meghan is active in multiple beekeeping organizations, writes for multiple beekeeping journals, and speaks about bees all over the country.  She currently runs the Northern Bee Network, a directory and resource site dedicated to supporting queen producers, and she is passionate about keeping and promoting healthy bees.
Breakout Sessions
Click here to download the 2019 Bee School Schedule. This schedule is subject to change.
BEGINNERS TOPICS:
This Keeping of Bees – How to bee-gin this fascinating journey—an overview of cost, commitment, location requirements, how to get going and more. (Charlotte Hubbard)
Equipment Essentials – A review of the oft-confusing hive types and components, the equipment bees need for SW Michigan, and equipment the beekeeper needs. (Marshall Beachler)
The First Six Weeks – Essential preparation, getting the little darlings home and in the hive, feeding, and how to inspect. (Charlotte Hubbard)
Mid-Season Management – More on essential hive checks, Varroa management, and managing a growing colony. (Chuck Bauer)
BEGINNERS to ADVANCED TOPICS:
Apiary Safety – This could be the most important beekeeping session you attend in your life! Practical tips and insights on safely working a hive, stings, smoker use and plenty more. (Charlotte Hubbard)
Diseases & Pests 101 – An overview of what to expect and look for in colonies, focusing on the big three of Varroa, SHB, and wax moth. Also reviewed are AFB, EFB, and Chalkbrood, touching on recognition, differences, and suggested treatments. (Don Lam)
Frame Building Workshop – In this hands-on session, you'll learn the fundamentals for building frames that last, how to install foundation, and review common frame types. Participants will build a frame that will be donated to the Kalamazoo Bee Club. Limit 10 people. (Marshall Beachler)
Legal Labelling for Hive Products – Selling honey, pollen or other products of the hive? A review of required labelling. (Don Lam)
Non-toxic Yard & Garden – Handling lawn and garden pests without hurting pollinators. (Mike Connor)
Pollen & Propolis – We will discuss techniques for collecting pollen and propolis and preparing for the market. Pollen will be available for sampling. Propolis scraping from traps will be demonstrated. (Chris Beck)
Queen Rearing – Methods and considerations for raising queens. (Greg Willis)
Queen Replacement – How to assess the queen's performance, considerations for replacement, and a discussion of replacement methods, from one of the most recognized experts on queens. (Dr. Larry Connor)
Splits – Making a split is a great way to possibly gain an additional hive. Different methods of colony increase are reviewed. (Dave Anthony)
Starting & Staying on the Right Foot with an Overwintered Hive – Salute on overwinter survival! Ensuring it happens again requires proper management starting at winter's end. Meghan will review her management approach. Make 2019 the year when you have swarms under control, make a nuc to overwinter, and appropriately manage Varroa from the get-go. (Meghan Milbrath)
Swarm Biology & Management – Swarming is what bees do to propagate the species, but there can be dire consequences. Learn about the biology and control of swarms in our geographic region. (Meghan Milbrath)
A Tour of the Bee Colony – Meet the players, and where they live. Bee biology, roles of the bees in the colony, and how it all works is essential information for hive management. This session is ideal for beginners and intermediate beekeepers alike.  (Dr. Larry Connor & Andrew Connor)
Trees for Bees – With the constant degradation of forage and habitat for bees and other pollinators, there is more focus on planting and preserving small perennial and native plants. Unfortunately, the larger picture has been generally ignored. Bee populations and other pollinators depend on trees for spring buildup, and trees are major contributors to honey crops in much of the U.S. (Mike Connor)
Varroa Biology & Management – Today's beekeepers must practice mite management to be successful. Learn the life cycle and habits of the ubiquitous varroa mite and how to keep it under internationally recognized thresholds for survival. We will also demonstrate mite testing and discuss the many options for controlling mite populations. (Chuck Bauer)
Wax Rendering – We will discuss beeswax production, harvesting, processing, and products. Making a candle with a mold will be demonstrated. (Chris Beck)
What NOT to Plant for Bees – Are all flowering plants good for your bees? Some plants produce large quantities of pollen, such as oaks and pines. Do bees benefit from them? What about hybrids, or cultivars of trees and flowers? Should I only plant "natives"? This talk is a discussion of bloom timing, nutrition, species, quantity and quality of nectar/pollen and the role of invasives. (Mike Connor)
A Year in the Apiary – A month-to-month review of what happens in the hive, and what to look for, followed by Q & A. (Greg Willis)