Kalamazoo Bee Club Apiaries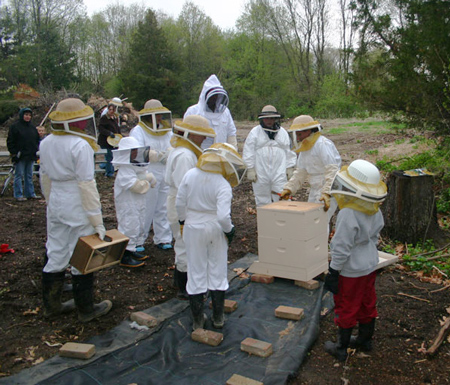 With the goals of hands-on education and to share different beekeeping techniques and hive configurations, we operate two apiaries. The main apiary is located at WMU Business & Technology Park (BTR), (corner of Drake and Parkview in Kalamazoo.)  A second apiary is located at the Delano Homestead at the Kalamazoo Nature Center, see maps below. Apiary Days are normally held May through October, weather permitting. MOST but not all Apiary Days take place at the WMU location, as noted below.
Anyone is invited to join us for an up-close look and some hands-on beekeeping.. Bring your own protective suit / veil if possible; a limited amount of protective wear is available through the club. (See more info on what to wear below.)
All participants must sign a safety release; we'd appreciate it if you review and sign it prior to the event; we'll keep them on file. Thank you.
Click here for the Safety Waiver (PDF)
Please check the Kalamazoo Bee Club Facebook page for last-minute changes to Apiary Days.
CANCELLED:
DECEMBER Apiary Day; see everyone next year
More winterizing fun! And, doing what we all should do over the winter–build and repair equipment.
For Apiary Days at the BTR location, we meet at the lower level of the parking garage on the Southeast side of the WMU College of Engineering Applied Science Campus. See map below. You can click on the "directions" link to get specific directions from your location.
For Apiary Days at the Kalamazoo Nature Center, we meet in the parking lot of the Delano Homestead, 555 W E Ave, Kalamazoo, MI 49009. You can click on the "directions" link in the map below to get specific directions from your location.
What to Wear When Working Bees
For safety, NO ONE may participate in Apiary Days without minimally a veil.
If you don't have your own protective wear, you may borrow some of ours—available in various sizes. Regardless of whether you'll bee wearing a suit, jacket or simply a veil, sturdy shoes are advised, and tall socks (so you can tuck in pants) are recommended. You may want to wear garden boots. As we have both suits and jackets, if you end up with just a jacket, you should have full length, loose-fitting light-colored pants. Child-sized suits are also available.