Kalamazoo Bee Club Apiary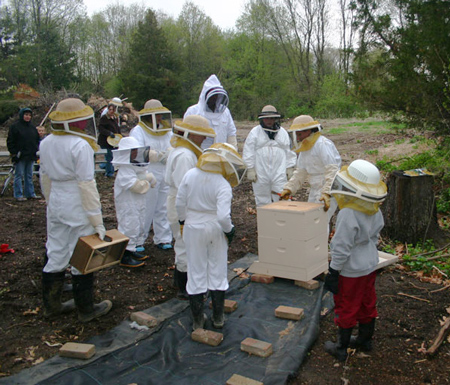 The Kalamazoo Bee Club has operated a Club apiary at several different locations over the years for the purpose of hands-one education. Currently (2016) the Club apiary is located at Colony Farm Orchard, owned by Western Michigan University, and also the home of WMU's apiary. Colony Farm Orchard is located on Drake Road in Kalamazoo. There's plenty of parking if you follow the road back to the apiary.  [View Map]
The Kalamazoo Bee Club started an apiary in the spring of 2010 to educate young beekeepers ages 5 – 15 and assist beginning beekeepers of all ages with hands-on experiences in the hives. The club apiary is owned by the Kalamazoo Bee Club and is available for all members to use, adults as well as young people. The Kalamazoo Bee Club apiary is used to teach beekeeping skills and to try out different beekeeping techniques.
Club Field Days
Join us at the club apiary for an up-close look and some hands-on beekeeping. Bring your own bee suit and a hive tool if you have one. Club Field Days are held May through October. Club Field Days are free and open to the public. All Field Days will take place at the Club apiary located at The Colony Farm Orchard on Drake Road in Kalamazoo from 1:00-3:00.
*Scroll down for tentative dates for WMU Apiary activity.
2016 Field Day Dates:
July 17 – Mid-Season Inspection –

CANCELED DUE TO RAIN

Mite sampling
Supering for honey
Feeding
Monitoring splits

August 7  – Mid-season inspection

Mite sampling
Supering for honey
Feeding
Monitoring splits

August 21 – Honey Harvest

Mite sampling
Harvesting and supering for honey
Monitoring splits
Feeding, as necessary

September 11 – Honey Extraction

Extracting honey
Mite sampling
Feeding, as necessary
Monitoring splits