Kalamazoo Bee Club Apiary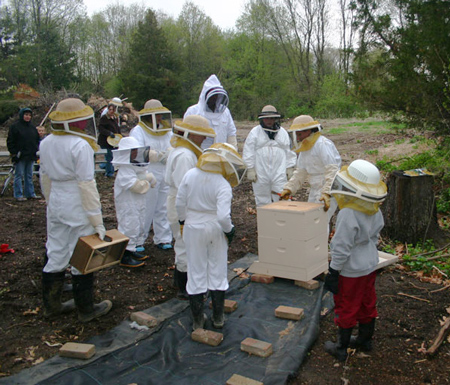 The Kalamazoo Bee Club has operated a Club apiary at several different locations over the years for the purpose of hands-one education. Currently (2018) the Club apiary is located at WMU Business & Technology Park and also the home of WMU Student Apiary. The WMU BTR park is located at the corner of Drake and Parkview in Kalamazoo.  See map below.
The Kalamazoo Bee Club started an apiary in the spring of 2010 to educate young beekeepers ages 5 – 15 and assist beginning beekeepers of all ages with hands-on experiences in the hives. The club apiary is owned by the Kalamazoo Bee Club and is available for all members to use, adults as well as young people. The Kalamazoo Bee Club apiary is used to teach beekeeping skills and to try out different beekeeping techniques.
Club Apiary Days – 1:00 – 3:00
2019 Dates to be published soon
*Scroll down for dates for WMU Apiary activity
Join us at the club apiary for an up-close look and some hands-on beekeeping. Bring your own bee suit if you have one. Club Field Days are normally held May through October, weather permitting.  See the list of dates below.
Club Field Days are free and open to the public. All Field Days will take place at the Club apiary located in the WMU BTR Park at Drake and Parkview. We will meet at the lower level of the parking garage on the Southeast side of the WMU College of Engineering Applied Science Campus. See map below for specific location. You can click on the "directions" link to get specific directions from your location.
Meet at the lower level of the parking garage near the southeast entrance on the East side of the WMU Applied Engineering Campus