To Learn more about the components of a traditional Langstroth hive visit our Langstroth Bee Hive page.
Local Suppliers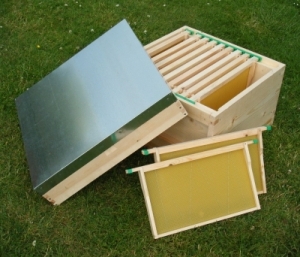 Buggs Nest West (Galesburg, MI) is the local outlet for Buggs Nest Woodenware owned and operated by Keith Lazar in Farmington Hills, MI. Contact Cathy King for the local (Galesburg) connection at backyardbeefriends.com, Phone: 269-743-8146 Email: trreech@aol.com
Dadant (Albion, MI) is a national distributor of beekeeping supplies and equipment. They have a Michigan outlet in Albion, MI.
Steller Apiaries (Marshal, MI) specializes in alternative beekeeping, including as top bar hives. Email: sales@stellerapiaries.com
Beeline (Mendon, MI) is a supplier of beekeeping equipment located in Mendon, MI.
Napoleon Bee Supply (Napoleon, MI) located in Napoleon, MI,
just south of Jackson and north of Adrian. Easy access from Highways (127, 223, I-94, US-12 and M-50)