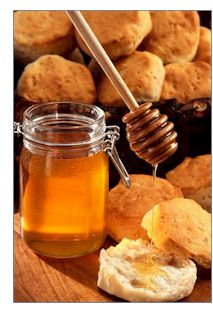 Honey & Hive Products For Sale
The Kalamazoo Bee Club sells honey from the Club Apiary. We offer honey for sale at Club events. All proceeds go to help support the programming and the mission of the Club.
Abbott Farms (Otsego, MI) – Honey, beeswax lip balm, goats milk and honey soaps and lotions, honey shampoo. Phone 269-692-2328 Email:  scabbott@sbcglobal.net.
Alamo Honey Farms (Kalamazoo, MI)
Bee Snug, Honey & Hive (Kalamazoo, MI) – Michigan Honey, Never treated, lightly filtered, Never Heated-Liquid honey (9 & 12 oz. jars, creamed honey, value added products from the hive, nucs (imported and local, depending on availability). Phone 269-330-2305, Email: beenug@me.com, Website: beesnug.com (under construction), Facebook: Bee Snug Honey
Chuck Bauer (Byron Center, MI) – Honey for sale in 1 pound jar, 1 pint (22 oz.) and 1 quart (44 oz.) sizes. Phone 616-802-2760 Email: bauersbees@hotmail.com
Richard Brenner (Vicksburg, MI) – honey in various sizes and in mostly glass containers, honey butter, beeswax candles, eleven piece beeswax nativity set. Phone 269-649-3520 Email: richard.brenner@juno.com
Zeb Driscoll (Hamilton, MI) Honey and pollination services. Phone 616-886-0545 Email: zbeeshoney@gmail.com
Duane Dupee (Marshall, MI) – raw wildflower honey for sale in pint and half pint bottles. Phone 630-247-2843 Email: butch60707@sbcglobal.net
Larry Hasselman, Hasselman's Honey (Fremont, MI) – Honey, beeswax, candles, soap with honey, lip balm, honey straws, package bees. Phone 231-924-5236 Email:  mibeekeeper@hotmail.com
Ken Hoekstra (Hopkins, MI) – Honey, 100% beeswax candles. Phone 269-793-4611 Email: Beeman3491@gmail.com
Wayne Kramer (Richland, MI) – Honey, beeswax, and candles. Phone 269-383-8411 Email: kzoohoney@gmail.com
Madry's Apiary (Bellevue, MI) – Currently has black locust honey, local honey for sale. Phone 269-763-3592 Email: dvstaxidermy@hotmail.com
Bob Pifer (Grant, MI) Email: crmachine@wingsisp.com
Bill Pruitt (Reed City, MI) Phone: 231-832-4472 Email: pru_liv@hotmail.com
Don Rewa (Grand Rapids, MI) – Honey, skin care lotion bars, lip balm and bath soap bars. Phone 616-340-2795 Email: rewa@ameritech.net
Schoolhouse Honey Farms (Scotts, MI) – Liquid honey (2 oz. bears through 5 gallon pails), honeycomb (seasonal), bulk beeswax, pollination and splits/nucs.Phone 269-838-7453 Email: swede1284@gmail.com