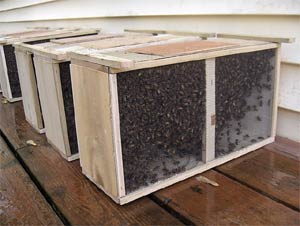 Most new beehives are started by ordering a package of live honey bees, usually in the three pound size.
Package Bee Suppliers
Below is a list of reputable resources we've compiled. This is in no way a complete list of bee suppliers. You might also reference the Northern Bee Network site for a list of suppliers.
Early Spring Packages
David Anthony at Anthony Bee Farms (Swartz Creek, MI) These bees are brought from California in a special climate-controlled moving van; Phone number is 810 621-4371
Chris Barnes at Dadant & Sons (Albion, MI) Chris offers bees from California; phone: (517) 629-2860.
Don Lam Bees (Holland, MI)Don brings in thousands of packages from Gardner's Apiaries in Georgia for beekeepers in West Michigan, available for pick-up in Holland MI in late April and early May.
Steller Apiaries (Marshall, Michigan) Offers package bees and also specializes in top bar hives and alternative beekeeping methods.
Honey Hive Farms (Missouri) "Raising exceptional bees for exceptional honey for our community"
Packages later in Spring/Summer
Wilbank Apiaries (Benton Harbor, MI) Contact Paul at 269-277-1759.